Message from our IAP members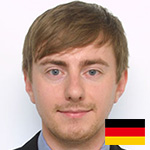 NameHolger Liebhart
CountryGermany
IAP Time2014 ~ 2017**+years
Current WorkplaceFURUKAWA PLANT
Hi, my name is Holger Liebhart and I joined ALPS in 2012 for a six-month internship at the engineering headquarters of our Furukawa Plant in Japan. Although this internship was mandatory for my university degree, I wanted to take this opportunity to gain work experience abroad and get to know an interesting culture at the same time and thus become unique.
"The Opportunity to Gain Work Experience Abroad…
During this internship, I learned a lot about hardware design as well as working and living in Japan. After going back to Germany to graduate from university, I got an offer from ALPS Electric in Germany to write my Bachelor Thesis in their Munich office. (It is common in Germany for students of technical studies to base the Bachelor Thesis on a real project from the industry. Companies offer and support this cooperation with universities and thus students can also gain real work experience.) During that time, I decided to join ALPS in Japan again as an IAP member to learn much more about product development while improving my Japanese language skills.
…and to Get to Know an Interesting Culture at the Same Time."
In October 2014 I started the program with four other members from Europe. At first, we received a two-week language course which was very intense but also really helpful. After that, I started working in the Product Development Department as an electrical engineer in Furukawa. The beginning was very difficult. Since the communication with the coworkers was a big challenge, I couldn't do much interesting work. Slowly I improved my engineering and language skills and received more and more meaningful assignments. That is why my recommendation to all IAP members is to focus on the language before the work is gets busier. Just going to work every day will not be sufficient enough to reach a reasonable level of Japanese. You have to actively study by yourself. Furthermore, you are able to enjoy life in Japan much more when you speak the language. The time invested in learning Japanese will definitely pay off later.
Since I liked my work as a design engineer and wanted to improve my language skills, I decided to extend my IAP contract for another year. Currently I am in my 3rd IAP year here. If there is a possibility to transfer to ALPS Europe after these three years at ALPS Japan, I would like to use my experience to improve the communication between ALPS Japan and the overseas affiliates.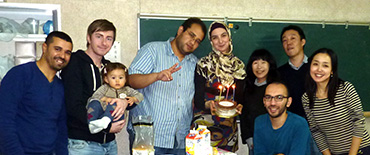 Dinner with IAP members, friends, and family.
About Furukawa: I find it easy to live there. IAP members usually get an apartment within walking distance to the company and everything you need is available and close. There are several IAP members at a time and of course your Japanese colleagues with whom you can go out. And Sendai, the largest city in this region, is only 15 minutes away by train! However, in the end, it's always up to you to make the best out of your IAP time!
Application Portal
Open Job List