Message from our IAP members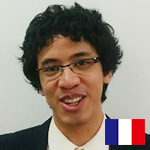 NameHery T. Ratsimbazafy
CountryFrance
IAP Time2014 ~ 2016**+years
Current WorkplaceFURUKAWA PLANT
As a Fresh Graduate, There Aren't Many Opportunities Like This to Gain Experience in Japan
Greetings everyone, my name is Ratsimbazafy Hery. For 3 years I have worked for ALPS Electric in the Research & Development Department. After graduating from an engineering school in France, I looked for opportunities to work abroad (especially in Japan). You could imagine my delight when I found this 2-year training opportunity: The "International Associates Program".
Never be Afraid to Ask
The IAP started with a language course at the Headquarter in Tokyo before I went to the Furukawa Plant. My contract was for a mechanical design engineer position, but I asked my manager if I could partake in assignments from other fields, too, if available. That is how I began software engineering. I also oversaw the development of touch panels, for example, with our latest technology like gaze detection, vital sensing and head-up display for our ALPS Show Cockpit in 2014 and the CES 2015, the Consumer Electronics Show in Las Vegas. The development side was really interesting, but I also wanted to explore the research side and I was later given this opportunity to find and test new algorithms for our camera system. So, never be afraid to ask!
I did a lot of engineering during the two IAP years in Japan, but I wanted to experience this new country as much as possible. Therefore, I asked if there is a possibility to extend the IAP contract as a project leader and, luckily, a job was available. After a short preparation period, I started in my new position as Project Leader in R&D. Even if I was lacking experience, there was always someone I could ask for advice if necessary. Sure, the work is sometimes long, but it is time well spent.
Learning a New Language
To support IAP members in the new work environment, ALPS provides language training after the orientation phase in Tokyo. In my case, the course was not very long because I had already studied Japanese before. However, there is still a gap between learning a new language and being able to use it in a professional atmosphere. I would say that even without any prior Japanese knowledge you can enjoy the IAP but the more you understand and speak, the more options will become available.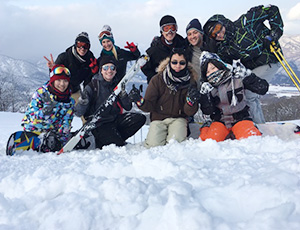 One-day ski trip with other IAP members and Japanese colleagues.
Outside the company, I really enjoy my everyday life in Japan very much. Since the IAP members come as a group to Japan and the training period overlaps with previous and future IAP members, there is always someone you can talk to and you are never lonely. Yes, Furukawa is in the countryside, but the location is awesome with its beautiful, natural scenery right outside your door. I recommend very much to visit the hot springs and ski resorts nearby in the Tohoku region as well as the classic sightseeing spots. And if you want to experience the city life, Tokyo is just 2 hours away by train.
My last piece of advice: As a fresh graduate, there aren't many opportunities like this to gain work experience in Japan. So, if you have the slightest interest in working in Japan, go for it!
Application Portal
Open Job List