Message from our IAP members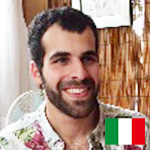 NameMarcello Milli
CountryItaly
IAP Time2014 ~ 2016
Current WorkplaceALPS ELECTRIC EUROPE GmbH
A Challenging Experience to Broaden Your Horizons
Ciao! My name is Marcello Milli and I am currently working as a Project Leader in our ALPS sales office in Munich. I studied Mechanical engineering and after I finished my master's degree, I gained some working experience in a small Italian company before joining ALPS as a member of their International Associates Program (IAP).
It Was Not Always Easy… but I Can Say That I Would Do It All Over Again
It is not an easy choice to go to the other side of the world… to live in Japan for two years—far away from family and friends. But it is a very rewarding experience. Personally, I decided to join this program because I have always wanted to have an international career and I was fascinated by the Japanese culture. I must be honest; it was not always easy. There are ups and downs, but I can say that I would do it all over again.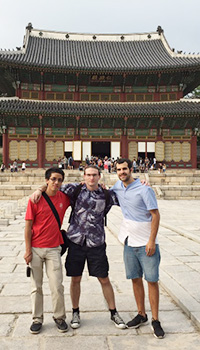 Sightseeing with friends
Something I learned in these two years and that I will always treasure is to always be positive and, just like a Japanese samurai, never fear the challenge. A Japanese saying goes "Nana korobi, yaoki" (fall down seven times, get up eight), and this vividly represents the daily life of the IAP members. There are many great moments, but also some challenging ones.
During the two years, ALPS provides support for you to learn Japanese, as the official working language in ALPS Japan is Japanese, but you also have a lot of "on the job training" to grow in your field of competence.
I started as an engineer and I ended up as a Project Leader. This is because ALPS is really investing in IAP participants and supports their personal growth as employees are the most valuable assets in the company.
On the job you always feel protected, because the colleagues are very nice and help you in any situation. At the beginning, the workload is very limited to permit you to gain and improve your Japanese language skills. However, gradually the workload will increase to the same level as that of your colleagues.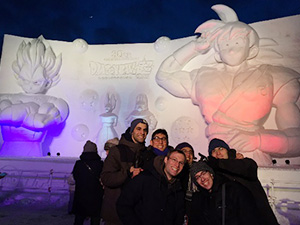 With other IAP members at the Hokkaido Snow Festival
Make Your Way and Seize the Opportunities
Finally, "make your way" and take advantage of the opportunities which you will come across and this will help you to grow—not only in your career, but also in your private life.
Application Portal
Open Job List